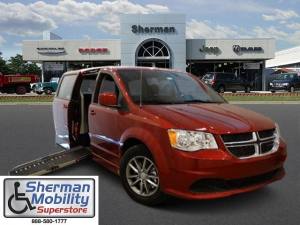 Used Mobility Vans for Chicago-
Sherman Mobility
 is the best choice for your purchase of a mobility van.
When it comes to quality, reliability and safety, you have come to the right place! Chicago area
customers are in great hands when they purchase a mobility van from Sherman Dodge. With over 20
years of helping our customers with physical challenges, we have the experience to make sure you have
the proper used mobility van. The mobility van you will have is going to lead you to the road of
independence and freedom.
We are located in beautiful Skokie, but customers come from various areas to experience the wonderful
customer service we offer. Our customers come from Villa Park, Glenview, Plainfield, Evanston and
more. We have the best deals on mobility vans in Illinois! Our inventory of used mobility vans is one of
the largest in the area. We have such a great variety of mobility vans, you are sure to find just what you
are looking for.  Take a look at our Dodge Grand Caravans, or the Chrysler Town and Country Vans.  
Sherman Dodge
 has every color and style you can imagine.  Visit our mobility inventory page. This will
give you an idea of the vehicles we have waiting for you. 
Whether this used mobility van is for you or a loved one, you will see why our Chicago customers
appreciate our quality.  For our drivers who require driving aids, we have the equipment you will need
to make your mobility van safe and comfortable.  The equipment available for your used mobility van
includes hand brake and throttle options, pedal extensions, handybars, electric parking brake and more!  
You can count on us for quality and pairing you up with the best option for you and your loved ones.
Our recommendation from the National Mobility Equipment Dealers Association (NMEDA) means that
we have a 125-point safety inspection completed on each of our used mobility vans.
Our dedicated staff is thoroughly trained in educating our customers on the features of used mobility
vans.  Our customers see this as a big advantage to buying from 
Sherman Dodge
 because the staff helps
customers just like them each and every day. Customers are coming from places such as Milwaukee,
Wisconsin and Northwest Indiana to purchase the used mobility van they have been looking for.
Please call-866-594-4000 today and our specially trained staff for Used Mobility Vans for Chicago-
Sherman Mobility
 will get you started on selecting the best Mobility Vehicle for you!